What's The Right Time To Hire A Divorce Lawyer
Divorce needs to be a last option alternative when there are problems in a marriage. When people choose that divorce is the only choice, they also need to determine if a divorce lawyer is required to resolve everything.
Divorce Mediation Option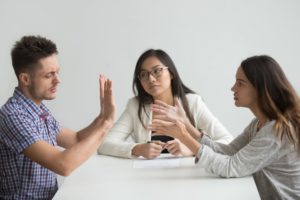 In general, it is ideal if people work out the issues themselves with a neutral third party mediator. Some attorneys supply solutions as a mediator, so do research before selecting a mediator. Choosing this option will save arguments, time, money and emotional court experiences.
Mediation can help people overcome emotional obstacles to negotiation and negotiate a reasonable divorce agreement that fulfills both of their demands. Mediators will collaborate with both parties involved at the same time and also do not represent individual interests. Mediators will assist in a negotiation between both parties that results in an arrangement acceptable to both sides.
If there are kids involved, then working things out with a moderator is the best way to go, so the kids see less damage. If able to work things out in regards to kids, money, and property, then all that is needed is to ask the court in writing for a divorce.
Hiring A Divorce Lawyer
If the divorcing couple decides they each require to hire a divorce lawyer, then it is vital to hire the ideal attorney. Hire a lawyer that will assist in settling the issues in a civil manner without fueling the flames that currently exist. When interviewing a lawyer, ask them if they prefer to negotiate settlements as opposed to bringing the argument to court.
Great lawyers will go after whatever your interests are. If the couple wants a tranquil and civil divorce, make it clear to the lawyer. If one hires an aggressive lawyer, then the other person might need to work with one like that as well in order to receive what you want out of the settlement. However, battles will seem never finishing and the negotiation will certainly have plenty of hurt and exhaustion.  This also costs a lot more money
Joint representation, indicating one lawyer represents both people, is allowed certain instances. The couple needs to settle on major issues and be certain they can work out all the other minor issues. The couple additionally needs to understand the lawyer cannot completely represent both parties.  Couples need to agree to these conditions in writing and ask the attorney to simply manage the documentation.
If a disagreement arises in joint representation, the lawyer needs to transfer one client to another lawyer or quit representing either partner if they find out points that make it unreasonable to represent one of them.
Other Options For A Divorce Lawyer
There is an additional technique called collaborative practice. The couple and the lawyers will agree that they do not need to go to court due to the fact that they are going to share information willingly as well as work cooperatively toward a settlement. These lawyers will just take cases where the other party has hired a collaborative lawyer. The lawyers will sign an agreement that says if the case cannot be settled then the pair needs to hire another lawyer for litigation. This removed an attorney's monetary motivation to go to court and encourages earlier settlement.
There are times where it is necessary to hire a divorce lawyer. If there is a trouble with spousal, kid, sexual, or drug abuse, then a lawyer can help get an arrangement that will protect the other person and any kids.  If the spouse is being dishonest or ruthless, then a lawyer is needed to protect interests.
If the spouse has a family law attorney, then the other spouse really should hire a lawyer also, just to guide and protect themselves This is specifically vital if there are kids involved or if there are complicated financial issues.  It is difficult and emotionally draining if one person is trying to argue with the other spouse's expert legal representative.
The Law Office of John J. Donohoe is a Family Law Attorney located in downtown Colorado Springs, CO.  John is highly experienced and aggressively prosecute and defend a variety of civil litigation matters including divorce and family disputes, personal injury cases involving wrongful death and dui's.  John has achieved successful results for clients by way of mediation, arbitration, and trial.  Visit the website at https://donohoelawfirm.com